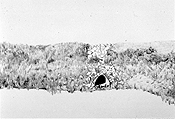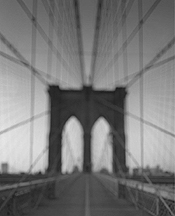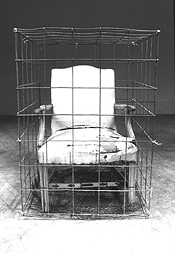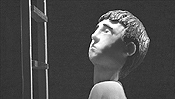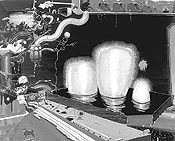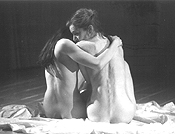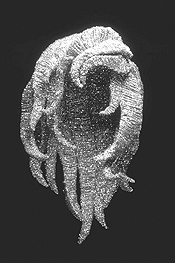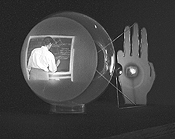 Katy Fischer: Highlands Commute, Julia Friedman Gallery. Fischer's delicate ballpoint or silverpoint renderings of embankments, drainpipes, and other unremarkable highway marginalia offer an homage to the mundane paths we all take to and from wherever, while wishing we were someplace else. Though small in scale, her long, obsessively detailed horizons drive you across the page, while tugging at your peripheral vision. Fischer's fascination with non-locations and in-between places is made all the more satisfying by her mesmerizing technique and its unforgiving permanence. Training her painstaking eye on these quotidian vistas, she finds romance in the road most traveled.

Hiroshi Sugimoto: Architecture, Museum of Contemporary Art. Viewing these monumental, silvery photographs, you get the eerie sense you've been conked on the head: you know these are familiar structures--the Chrysler Building, the Eiffel Tower--but their blurred silhouettes, stripped of their urban contexts, counter recognition with the empty strangeness of amnesia. There is no nostalgia in these airtight worlds, where buildings are islands, cloaked in an impenetrable haze of isolation. Presented on tall, gray walls aligned in rows like tombstones or skyscrapers, Sugimoto's images projected a silent film about a silent future, producing a sense of dislocation so profound that it hushed even the most manic group of fourth graders.

Jin Soo Kim: Twenty Years, 1983-2003, Chicago Cultural Center. Kim's recent retrospective had the air of a post-apocalyptic junkyard, full of bandaged artifacts that spoke of injury, vulnerability, and abjection. Kim seems to mummify her salvaged objects, as if the act of wrapping them in cloth will satisfy her need to know them, or to protect, heal, and contain their imperfect conditions. There's a fine line between shelter and constraint, however--an idea she further explores in a series of works confined in rusted metal cages, as well as her 2001 installation What Next, an atypically spare arrangement of railroad plates, electrical cords, and hundreds of light bulbs, best viewed from within the provided refurbished shipping crates. Kim is an orchestrator of contemplative cacophony, sounding the perpetual chorus of damaged goods: are we the protectors of our memories, or the prisoners of our pasts?

Joshua Mosley, Donald Young Gallery. It took just five minutes for us to fall in love with Mr. Mosley, whose mixed-media animation Commute (2003) managed to skewer the clichés of the blasé traveler--persisting in inane cellphone conversations with folks back home, yielding to the prescribed "adventure" of the (albeit lunar) cruise, missing the boat of having Descartes for a local guide--while casting himself as the accidental tourist who winds up in a grander existential exploration of inner space. Setting claymation figures against fluttering charcoal backgrounds (think Kentridge meets Davey and Goliath), Mosley's brief, exquisitely rendered film celebrated the surrender to curiosity and risk that ultimately makes the difference between journeying and standing still.

Scott Anderson, Museum of Contemporary Art. Sampling imagery from consumer culture, science fiction, and the suburban landscape, Anderson's soupy hellscapes break down the signs of social and cultural hierarchies and re-present them in a gurgling, chaotic mess of intense color and luscious technique. Anderson juxtaposes volcanic, fiery explosions with nauseatingly manicured landscapes and mass-produced plastic crap in the same way he combines earthy browns with acidic yellows and perky pinks. Complete with titles in Esperanto, these are the paintings Turner would have made had he grown up in the Star Wars generation. A commentary on lost idealism? This is the new sci-fi sublime.

Collectible, Northern Illinois University Art Gallery in Chicago. This group show curated by gallery director Julie Charmelo put its finger on a central artworld dilemma of the last decade: how do the traditional systems of galleries, collectors, and museums deal with artists' increasing tendencies to make maddeningly disparate and ephemeral works out of idiosyncratic materials in idiosyncratic spaces? Along the way, it proffered a clever investigation of value that poked good fun at both the oddities of human hoarding and the Duchampian tenet that anything can pass for art by striking the proper pose. It was a pleasure to see strong works by artists who embraced Collectible's multiple layers of self-reference, to the extent of actually tweaking their own uncollectible practices. Kathleen McCarthy, whose monofilament installations regularly displace entire rooms, encased pieces of breakfast cereal in pristine foil blister packages--miniature Minimalism serialized into portable, artificially sweetened snacks. Jason Peot, whose site-specific sculptures typically involve breaking through walls, manufactured a do-it-yourself Peot Installation Kit in a Home Depot-friendly (and less structurally invasive) edition of 20. Others took on equally deft critiques of institutionalized art in institutionalized arenas: Matt Irie, employing various ballpoint pens, transformed epics of handwritten notation into large-scale geometric patterns--the kind of thing Sol LeWitt might do if sentenced to a lifetime in prison--while Rena Leinberger recreated the parquet floor of The Robert and Virginia A. Kaplan Gallery at the Art Institute of Chicago out of verboten sticks of chewing gum. The "end-user" quandaries presented by artworks that resist commodification are neither new nor diminishing, but given the current lemon of an economic climate, you gotta love good lemonade.

Vienna: Lusthaus (revisited), Performing Arts Chicago. Seventeen years after its premiere, Martha Clarke's dreamscape of sexuality and neurosis resurfaced at the Athenaeum Theatre in what was billed as a "refined" form--although how this work could get more refined is anyone's guess. A languid word-and-movement evocation of Viennese society before World War I, Lusthaus drew together visual, musical, and textual quotes from Freud, Schiele, Klimt, and Strauss and served them up with an aloof, soft-focus gentility that betrayed its own pre-revolutionary age--this is aristocratic performance of the old order, meting out its hothouse beauty to the proletariat from behind the fourth wall. Still, it offered such elegant and unceasing displays of nudity that we wanted to wake the old guy snoring behind us, if only to watch him have a heart attack.

Hobby Lobby, Gallery 312. Too often, art made on the cheap comes off cheap; relying on irony to validate a haphazard, scrap-shop aesthetic, the results read as hubris rather than humility. So imagine our surprise to see the artists in Hobby Lobby treat their craft materials with enough sincere craftsmanship to create art worth looking at. Case in point: Betsy Brandt's floor sculpture Whirl, a 14-foot spiral doily fashioned from intricate lacings of hot glue. Using humdrum stuff raided from the closet of a grade-school art teacher--sculpey, felt, pipe cleaners, feathers, and found fabric--artists such as Pete Goldlust, D'nell Larson, Darrel Morris, Kim Collmer, and Christina A. Papola convincingly collapse the hi-lo divide while offering trenchant observations about the desire to wrest beauty, order, and pleasure from the everyday.

Gillian Brown and Inga McCaslin Frick, Each/Other Vanishing Point, I space. Words will never do justice to the sheer visual poetry of this show. Suffice it to say, this was what you wish your dreams looked like: flickering superimpositions of moving images culled from lifetimes of memory, multiply projected on transparent scrims, glass lenses, and/or small sculptural forms molded from cheesecloth, casting magic lantern shows of longing, desire, and nostalgia on darkened gallery walls. Side by side, these artists acknowledged their kinship in fashioning densely layered, technically intricate, and unresolved narratives. Their room-sized audiovisual collaboration, each/other, was the eloquent exception: an ocean swimmer--accompanied by recitations from Merleau-Ponty's The Visible and the Invisible--approached her double reflection to achieve an apotheosis of confluence, a fleeting moment of transcendence in the struggled-for integration of the authentic and projected selves. This was a rare exhibition: one we could look at forever.


From top: Katy Fischer, Drainpipe II, ballpoint pen on paper, 15x22 in., 2001. Courtesy Julia Friedman Gallery, Chicago. Hiroshi Sugimoto, Brooklyn Bridge, silver gelatin print, 72x60 in., 2001. Courtesy Sonnabend Gallery, New York. Jin Soo Kim, Body and Shadow, found object, steel, copper, 44x31x31 in., 1991. Photo by Michael Tropea, courtesy Chicago Department of Cultural Affairs. Joshua Mosley, Commute, mixed-media animation, 5 minutes, edition of 5 and 1 artist's proof, 2003. Courtesy Donald Young Gallery, Chicago. Scott Anderson, Lampo Pejzago, oil on canvas, 40x50 in., 2003. Courtesy the artist and Peter Miller Gallery, Chicago. Jocelyn Nevel, Casings (detail), crocheted hog casings, 18x20 in., 2002, from Collectible. Courtesy the artist. Martha Clarke's Vienna: Lusthaus (revisited), photo by Joan Marcus, from the original production at New York Theatre Workshop. Courtesy Performing Arts Chicago. Christina A. Papola, Because I'm Worth It, tinsel pipe cleaners, 21x11x13 in., 2000. Courtesy the artist and Gallery 312, Chicago. Gillian Brown, Insight Out (eye diagram), video projection on glass with mixed-media sculpture, 2002. Courtesy I space, Chicago.