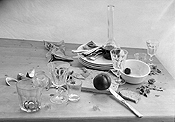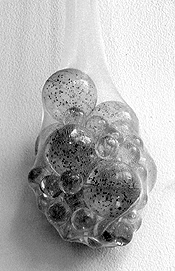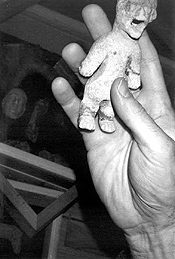 Top: Laura Letinsky, #38, Rome from Hardly More Than Ever, digital C-print, 17x23-3/4 in., 2001. Courtesy the artist and Edwynn Houk Gallery, New York.

Center: Amy Honchell, detail from Glands and Soft Parts, installation at Zolla/Lieberman Gallery, Chicago, colored tights, glass marbles, 2002. Courtesy the artist.

Bottom: Hold everything: an escapee from the collection of Andrew Young. Photo by Julie Farstad, 2004.


spring/summer 2004 contents

feature

lauraletinsky
interviewed by julie farstad

departments

mouthpiece
the editors speak

openmic
first night encounters
on the catwalk at betty rymer gallery

talkingheads
the faces behind the spaces
anne baruch
interviewed by susan aurinko

wordforword
artists trade tape
amy honchell/anne wilson
interview by julie farstad

oralreport
prima gallerina investigates the secret life of chicago's art scene
collect calls from our roving correspondent

voicemail
dispatches from chicago ex-pats
cindy loehr
get it on!
order the official m2m T-shirt


ourheroes

sponsored links

Archeworks

Aron Packer Gallery

Art Chicago 2004

Betty Rymer Gallery

FLATFILEgalleries

I space

Manifest 04: Columbia College Chicago Urban Arts Festival

The OId Town School of Folk Music

Polvo Art Studio

Printworks

Propaganda

School of the Art Institute of Chicago

South Bend Regional Museum of Art

Unit B Gallery

Zg Gallery



backtalk

online archives

fall 2002

winter 2003

spring 2003

summer 2003

fall 2003

winter 2004

use your "back" button to navigate the archives; using the "content" link will bring you back to the current issue