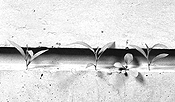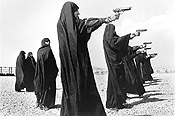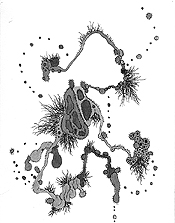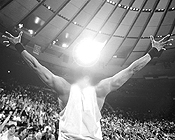 Yoshihiro Suda, Art Institute of Chicago. Suda carves magnolia wood into impossibly realistic, delicate flora that spring unaccountably from interior nooks and crannies, proffering minute yet vastly poetic meditations on time, space, and the eternal push-pull of the manmade and natural realms. His installation Weeds, sprouting from the fascias of the museum's sun-drenched Roger McCormick Memorial Court, was nothing less than enchanting. Observing these trompe-l'oeil botanical invaders staking their claim to the great halls of culture--so wrong yet so right?--one gets the sense of the human imperative being put in its place. Will the real nuisance please stand up?

ABCD: A Collection of Art Brut, Chicago Cultural Center. God bless any show that inspires you to race home and draw. Culled from the Paris-based collection of Art Brut Connnaissance & Diffusion, these stunning works by spiritualists, isolates, and the institutionalized testified to the power of the imagination, and the creative will to confront, render, and ultimately escape the existential confinements of walls and flesh. While Wölfli and Darger have been hyped to near-mythical status, the lesser-knowns were actually more satisfying--Edmund Monsiel's silvery drawings crammed with hundreds of tiny heads; Anna Zemánková's biomorphic miniatures densely rendered in colored pencil. With walls full of compositions stressed to the breaking point--pushing up against the edges of the page or obliterating any trace of negative space--this show packed a psychological wallop that made you want to lose your mind.

Killer Shots, Catherine Edelman Gallery. Finally! A bold critique of the Iraq conflict and, by extension, American foreign policy, this group show assembled striking photographs--many of them now iconic--of global military conflicts over the past 30 years. From Nick Ut's famous image of Vietnamese children running down a napalm-bombed street, to Sebastião Salgado's poignant shot of terrified infants peering out from dirty blankets in Zaire, this show offered timely, harrowing reminders of the heartbreaking realities of wars fought "in the name of democracy."

Summer, Bodybuilder & Sportsman. Looking at this grouping of biomorphic abstractions by Leslie Baum, Mark Booth, and Paul Nudd conjured memories of 1980s' children's television guru Commander Mark, a master of the Sharpie who talked us through intergalactic how-to drawing sessions of oozy planets and tentacled aliens. Nudd's tightly crafted ink renderings of floating, twisted entrails were standouts for their detailed exploration of the lexicon of the disgusting--though none of the images was less than beautiful. This was an exhibition that would have made our fearless leader proud.

Paul Pfeiffer, Museum of Contemporary Art. With savage insight, Pfeiffer's digitally manipulated photographs and videos tweak our perceptions of human emotions, values, and interactions. Training his eye most notably on the spectacle of professional sports, he erases contextualizing details--the basketball net, the trophy--to create unsettling images of "achievement" that question American ideals of celebrity, masculinity, and success. Race Riot (2002)--a tightly looped video of a basketball player writhing on the floor (in injury or ecstasy?) while a flurry of hands grasps at his body--draws potent allusions to both the homoerotics of "being on the team" and the beating of Rodney King. Blurring the thin lines between love and hate, victory and failure, Pfeiffer limns the gray areas of being the winner.

Punto de encuentro, Mexican Fine Arts Center Museum. Well, we meant to review The Exquisite Eye--a serviceable group show of Mexican women photographers--but we were hijacked by this amazing display, a selection of murals on canvas and smaller works on paper by children in the museum's education program. From the brightly colored, ingeniously detailed, and blissfully skewed perspectives of Pilsen and Navy Pier, to the riffs on paintings by Remedios Varo, to the knowing self-portraits of collaged tissue paper and found objects, this was some of the best emerging artistry we've seen.

The Summer Show, Gallery 312. A tasty seasonal smorgasbord by 16 emerging or under-represented artists from the Chicago area. Potluck we liked: Susan Blake's digital photomontages, which constructed 360-degree views in clashing perspectives that captured the vertigo of daily life; Eleftheria Lialios' haunting 16mm film I Had This Dream Last Night..., a 1998 diary of her daughter's death from cancer at age 5; Geoffrey Smalley's Hot Wheels-inspired installation of paint, faux-wood laminate, and artificial grass; and John Henley's wall of quirky paperworks--bizarre pastorals where ladies golf in the nude. Take that, Augusta!




From top: Yoshihiro Suda, Weeds, painted magnolia wood, Naoshima Contemporary Art Museum, Japan, 2002. Courtesy Art Institute of Chicago. Jean Gaumy, Tehran, Iran, 1986, gelatin silver print, 20x24 in. Courtesy Catherine Edelman Gallery. Paul Nudd, Untitled #90, Tombo ABT and Marvy LePlume II acid-free markers on paper, 11-1/2x9 in., 2003. Courtesy Bodybuilder & Sportsman. Paul Pfeiffer, Four Horsemen of the Apocalypse (7), digital duraflex print, 48x60 in., 2002. Collection of the artist. Courtesy Museum of Contemporary Art.