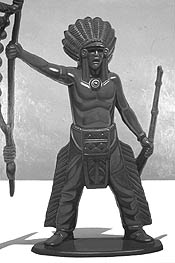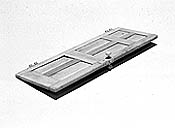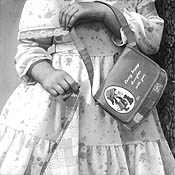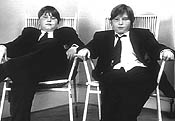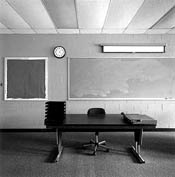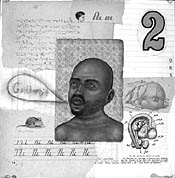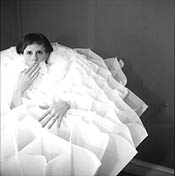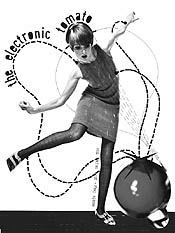 Here and Now, Chicago Cultural Center. Props once again to the Cultural Center for jumping headlong into the breach; if this place didn't exist, we'd have to invent it. But debate about this survey of Chicago's emergent art scene was going to be unavoidable. No one can fault the premise or importance of such an enterprise, and everyone will find some way to fault its curatorial choices and the subsequent criticism thereof. So let's get this thankless task out of the way. Here and now, it would appear that 1) abstraction doesn't hold much appeal for the 35-and-under crowd; 2) painting has reduced itself to formal explorations of the decorative surface; 3) the temperature of the inner landscape is decidedly cool, dominated by quizzical responses to popular culture rather than sociopolitical foment or psychological angst; 4) the occasional emotional note is nostalgia for lost dreams of childhood, individualism, and a sense of place. For an exhibition inherently predicated on opinions about where Chicago art is and where it's going, it was interesting, and puzzling, that these works exercised few opinions of their own. Ultimately, these artists seem to be raising the same question we are: Is this all there is?

Charles LeDray, Sculpture 1989-2002, The Arts Club of Chicago. Renouncing the masculine clichés of big scale and big process in favor of the handmade miniature, LeDray performs the neat trick of marrying obsessive humility with a freakish longing for control. From his vitrine of 2,000 hand-thrown porcelain vessels barely over 1-inch tall, to his 45-foot-long flea-market assemblage of tiny clothing and quotidian objects, to his mind-boggling sculptures carved from human bone, LeDray's masterful minutiae force the viewer to assume a godlike perspective over a conspicuously lifeless world. With its profound mix of awe and melancholy, this show evoked a Christian Boltanski installation shrunk to dollhouse proportions--a Lilliputian kingdom of loss.

12" x 12", Zg Gallery. Riffing on the MCA's 12x12 series, Zg's November group show challenged emerging artists to reduce their visions to the scale of 1-foot square. Rachel Davis' color-clash abstraction explored the tension between the embellished and aggravated surface; Gregory Jacobsen's intricate freak-show tableau suggested a danse macabre by Bosch's Nutt-y love children; Betsy Stirratt served up a mouth-watering petit four of sugar-dusted nature; and Mary Henderson inspired brush envy with her tender, photorealistic rendering of decapitated girlhood. A timely and winning testament to the virtues of doing more with less.

Electroclash, Abbey Pub. An exhilarating display of visual and vocal prowess, this touring extravaganza of electronica and interdisciplinary performance offered something for everyone--from Tracy and the Plastics' pro-lesbian, multimedia quest for identity to WIT's post-feminist pin-up girl humor; from Peaches' hang-from-the-balcony-with-a-digicam-down-your-pants celebration of the carnal, to Chicks on Speed's frenetic sound-and-image call for class revolution. Clearly, the women of Electroclash understand that owning a Casio keyboard and loving New Order is not enough. Here's the new philosophy: don't open your mouth if you have nothing to say, and don't show up if you're not going to throw down.

Gillian Wearing: Mass Observation, Museum of Contemporary Art. British artist Gillian Wearing uses photography and video to conduct gut-wrenching psychological investigations into family relationships, personal upheavals, and the way space impacts behavior. Her sly use of artifice, such as the generically youthful masks in Trauma (2000), the stark white photo-drops in Drunk (1997-99), and the lip-synched confessionals of 2 Into 1 (1997), magnify the tension between subject and observer, pushing both to the uncomfortable edge of vulnerability. Feeding off our armchair appetite for other people's misery, Wearing serves up a toxic buffet that would make Todd Solondz eat his heart out. It's about time somebody bitch-slapped made-for-TV "reality" for the travesty it is. The truth? You can't handle the truth!

Scott Fortino, The Museum of Contemporary Photography. Fortino is a Chicago cop with an MFA in Photography, but instead of giving us the Weegee-esque documentaries we might expect, he turns his lens on abandoned institutional spaces that police thought, rather than crime. Shooting the interiors of schools, holding cells, showers, and bullpens, Fortino reveals an unrelenting rectilinear geometry whose inhuman blandness is relieved only by the forced whimsy of color, or the echoing protests of litter and graffiti. His compositions of tile, concrete, and chalkboard evoke Rothko, Diebenkorn, Mondrian, and Albers, forging a provocative link between abstract formalism and our formulaic indoctrination into the everyday fascism of social and behavioral codes.

Fred Stonehouse, Carl Hammer Gallery. Stonehouse is still channeling the spirit of Frida Kahlo, and we still have to love him for it. The iconic universe of his paintings is pretty much hermetically sealed--at this point, we expect Stonehouse to make Stonehouses. But in his sacred and profane collage series The Ten Commandments, his use of found materials provided fresh doses of ironic mayhem and real-world absurdity. Within his familiar style, Stonehouse nevertheless manages to conjure up enough exquisite neurosis to prove that if it ain't broke, don't fix it.

Pictorial Seams, Betty Rymer Gallery. Curated by artist Jen Talbot, Pictorial Seams brought photography, performance, video, and installation to bear on fiber's clingy domestic clichés, challenging our presumptions of the familiar. From Darrel Morris' heart-rending stitched narratives of family dysfunction (were they everywhere this fall?); to Ralph Bourque's tensed-wire, life-sized 3-D "drawing" of a kitchen; to Catharine Draper's Rug of stockings stuffed with seeds and beans--a leggy harvest of potential--this ambitious and inventive show was difficult to summarize, which may ultimately be its point. This is no longer your mother's fiber art.

Teresa Mucha/Karen Savage, Aron Packer Gallery. A study in black and white, this show harnessed the melancholy of monochrome to create an appropriately autumnal mood. Savage's ghostly photograms of dresses, gloves, and handkerchiefs, and Mucha's retablo-inspired annotated drawings of winged hands grasping at visions of faith, combined to offer an extended meditation on the elusive spirit, and the quiet mysteries of the then, now, and hereafter.

Archigram: Experimental Architecture 1961-1974, Museum of Contemporary Art. Definitely the coolest show in town this fall. Where else could you see visions of the future that are now so nostalgically placed in an optimistic past? Archigram, the innovative British architectural collective, created designs for a lifestyle in constant flux, where furniture, as well as whole villages, are inflatable, and forms conveniently adjust to follow function. Packed with retro day-glo and collage proposals for such items as the "Info-gonk" and the "Suitaloon," as well as miniature models for "Instant Cities," Archigram's swinging techno-utopianism offered an inspired trip across the second, third, and fourth dimensions.

The Love Letter Collection, www.collectiveexperience.org. All the words you wanted to say but never could, this ongoing web project by Chicago artist Cindy Loehr compiles anonymously-submitted missives disclosing intimacies that are both intensely personal and comfortingly universal. For once, the internet's propensities toward voyeurism and self-aggrandizement have been put to shockingly sincere use, creating a virtual lost-and-found box for the human heart. Be the first to guess which one we wrote and win a prize.


From top: Chris Cosnowski, Medicine Man, oil on canvas, 72x48 in., 2001. From Here and Now; photo courtesy Chicago Department of Cultural Affairs. Melanie Schiff, Sleeping Boy #2, lambda print, 30x40 in., 2002. From Here and Now; photo courtesy Chicago Department of Cultural Affairs. Charles LeDray, Door, human bone, 5-1/4x2x5/8 in., 1999. Photo courtesy The Arts Club of Chicago. Mary Henderson, Carry Happy Thoughts, alkyd on linen, 12x12 in., 2002. Photo courtesy Zg Gallery, Chicago. Gillian Wearing, 2 Into 1 (still), color video with sound, 4 minutes, 30 seconds, 1997. Collection of Eileen and Peter Norton, Santa Monica, California. Photo courtesy Maureen Paley Interim Art, London. Scott Fortino, Near North Magnet Music Room, chromogenic development print, 18x18 in., 2001. Photo courtesy the artist and Shashi Caudill Photography + Fine Art, Chicago. Fred Stonehouse, Commandment 2, acrylic and collage on ragboard, 10x10 in., 2002. Photo courtesy Carl Hammer Gallery, Chicago. Jen Talbot, Tempered, c-print production still, 30x30 in., 2002. From Pictorial Seams; photo courtesy the artist. Ron Herron, Warren Chalk, and David Greene, Electronic Tomato, (c) 1969, Archigram. Photo courtesy Archigram Archives.