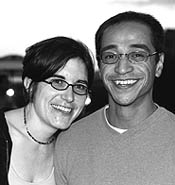 I'd asked around 10 or 15 people for suggestions....Finally one lady friend asked the right question, "Well, what do you love most?" That's how I started painting money.
--andy warhol, 1984
Susan and Rowell
Occupation: Medical student (Susan);
Graphic designer (Rowell)
Three words that describe Rowell:
Susan: Beautiful, calm, artistic.
Three words that describe Susan:
Rowell: Beautiful, detail-oriented, personable.
Do you come here often?
Susan: Actually, we do. We're members.
So what brings you here on a Friday night?
Rowell: Well, it's a weekend.
Susan: And I'm not on call! Generally the art, although they're installing, and there isn't much up right now. And we like the food.
Rowell: Food and art on a Friday night is a good combination.
Do you see a relationship between art and love, or art and romance?
Susan: Rowell can answer; he's the artist.
Rowell: Well, you have an opinion, too.
Susan: No, no; you talk.
You guys are so solicitous we'll be here forever!
Rowell: OK! I can see a connection in a lot of different ways: it can be depicted figuratively--someone realistically painting their vision of beauty--or more abstractly. To me, it's just forms, so an image that's not recognizable could still have a romantic sense because of the composition and color. Especially the color, I think. Sometimes a painting can be sumptuous or even erotic, but not be an image of a person. I find art that's abstract or metaphorical, rather than a literal painting of two people or a woman's body, to be more evocative of love.
If you could be the muse for any artist, whose would you be?
Susan: Well, I've been trying to get Rowell to paint me, but he does landscapes.
You could pose sideways.
Susan: Right! It sounds a little clichéd, but probably Picasso, because I wouldn't necessarily recognize myself. I like the abstract part of it. Nobody else would have to know it was you, or that it was for> you, except the painter.
Have you ever fallen in love with a work of art?
Rowell: Well, there's one, but I wouldn't think of it as romantic. It's a piece by Georgia O'Keeffe, of a cross in the New Mexico desert.
Susan: I don't think I have one.
Well, if you could have any work in your bedroom, what would it be?
Susan: Something really big and abstract and beautiful, like the Matisse paper cutouts at MOMA. I really like the story behind those. He was losing his sight, but his love for art drove him to still make work, even though it was very difficult.
Is an appreciation of art an important quality in a mate?
Rowell: Yes, because I like it! But it's a commonality; it gives you something to discuss. The person doesn't have to have the same opinion, as long as they have some opinion.
Susan: Well, it was part of my upbringing. My mother's an artist, so I was brought to museums when I was very young--even though I had to be bribed with jello from the cafeteria to go! So it's naturally a thing I'm interested in.
Did you guys meet in a museum?
Susan: No, we met in dancing classes.
Have you ever tried to pick anyone up in a museum?
Rowell: I think I tried, but I never had a pickup line. You would be looking at art, and maybe see someone interesting, but then what do you say to them?
"Wanna see my Matisse?"