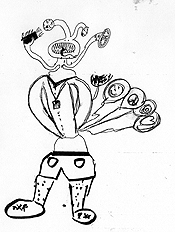 Players: No idea
Kristen: "We come in peace!" Note the balloons; they're a bouquet of the heart's desires--peace, love, happiness, and apparently, a cinnamon roll.
Julie: Combining the low-budget look of B-movie horror films with sappy-sweet Hallmark romanticism is a risky and confrontational move in today's emotionally cool art climate.
Kristen: Although, suspiciously, this creature holds its gifts behind its back. I bet its fingers are crossed.