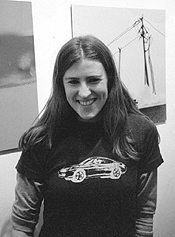 Name: Liz
Occupation: Artist
Britney or Justin--who's at fault? The thing is, I just found out four or five days ago, from the curator of this show, that they used to date. So I don't know who's really at fault, but I'm going to blame Britney. I like Justin Timberlake, which I probably shouldn't admit. And I think he's pretty sexy. I've never heard him talk, though--I've been told his speech is kind of "interesting," and that might ruin it for me.
What should Britney really be apologizing for? Well, I also found out that Justin and Britney supposedly didn't have sex--ha ha. So maybe she's apologizing for having sex with him when she's been claiming not to be. She's been lying to the public!
Is pop culture inherently sincere or insincere? I think that's what this show is all about, actually--people who feel sincere and insincere at the same time, who sit on the fence. I think pop culture contains both--and most people do contradict themselves. Everyone's stuck in pop culture whether they're involved in it or not. And you need it.
Are pop songs the philosophical texts of our time? Hmm. I want to say no, but I think it's true that they are. I'm unhappy with that. But they really do have influence; many of the lyrics are guidelines for a lot of people.
Is there a point where contemporary art can become too reliant on pop culture? I don't know about too reliant, but in my mind, as artists in general, we have a social responsibility to be another voice, reflecting what we think about society. Pop culture is an important place to look into to make art. It gives people a different perspective on something they don't think about in the first place.
What's the last thing you apologized for without really meaning it? Luckily the tape recorder can't see my face! I'm sure I sin just as much as the next person, but I don't know if I've really been apologizing for anything lately. Maybe for getting so involved in my own world, and in art, that I neglect the people I love. I don't necessarily apologize for it, but in my head I'm aware that it happens.
Is there pleasure in repeated failure? Well, once you succeed after those repeated failures, yes. But not during--that leads to frustration.
Does being an artist mean never having to say you're sorry? I think artists always get the feeling that they might be sorry later--like, "Omigod, I can't believe I made that, and showed it!" In a way, you're apologizing to yourself, and hoping people don't remember. Though, often, that's the work they do remember. I sometimes see my work on other people's walls and think, "Oh no; I can't believe you still have that up! Take that down and let me give you something else!"