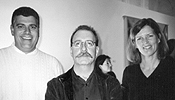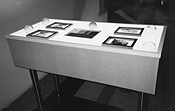 Top: Rick, Adam, and Dee Dee; above: Unportrait, 2003

Patrons: Rick and Dee Dee Chesley
Occupations: Lawyer (Rick); Housewife (Dee Dee)
Artist: Adam Brooks
Commission: Unportrait: The Chesley Family, photographs, sandblasted glass objects, altered environment, 2003

Adam, sum up your major artistic concerns. Re-presentation of information, and engagement with as large a public as possible. My wish is a democratization of the process of making, looking at, and consuming art in all its different ways. Basically, I want to put the artist back at the center of culture, rather than at the periphery--which is where we seem to be!
Are you two active collectors?
Dee Dee: Yes, we are. It has only been going on for about a year, so it's not something we've done a lot of. But we definitely have the bug--I caught it first, and passed it along to Rick.
Who gets to decide what's added to the collection?
Dee Dee: Pretty much me!
We were going to say, your husband just looked right over to you!
Rick: Sometimes a piece or two will jump out at me--but those aren't in the house! I'm hoping...one day.
Do you have similar aesthetics?
Dee Dee: I like photography, although I'm more attracted to photographs that look more like paintings. I'm interested in anything that's really beautiful, or elicits that response in me, but then says something more than just what you see.
Rick: I like photography, as well, and I've learned to appreciate it a lot more in the form we've been collecting it. Personally, I'm drawn to some of the more realistic subjects--environmental scenes and things like that.
What led you to commission Adam?
Dee Dee: Well, a friend of ours had commissioned another artist in this particular exhibit, and he suggested Adam to us. So we looked at his work, and then met with him. There really wasn't any choice to be made--we just loved what he does, and it worked out from the beginning.
Rick: And his son is our eldest son's age, so there was a common-denominator 12-year-old--which was a big connection.
Adam, what were some of the challenges in creating work on commission? Well, I must say I've never done a piece exactly like this before. I've worked in a quasi-commission way, but never this explicitly. It's an interesting dynamic, because it turns everything around. Usually as an artist, you make work, you show it, and then if someone likes it, they buy it. But in this case, essentially, the work is bought before it's even created, and there's a different set of principles at work. So the pressure is different: it's not just on yourself, to make the work you want to make, but also to make work that you think will--well, not necessarily be liked by the person you're making it for, but will be appropriate.
What inspiration did you take from Rick and Dee Dee in creating this work? In the end, what really worked for me was a combination of things. One was the videotaping I did when I went up to talk to the family--Rick, Dee Dee, and their sons Andrew and Nathan. We talked about all aspects of their life, but ultimately, when I was looking at the tapes, I was noticing their body language, and the relaxed nature of how they existed in that space. I decided to take fragments from each one of them--I took photographs off the videos, which I then manipulated--so it kind of had a painterly look to it, but still was obviously connected physically to who they were. Another element became these Japanese glass balls that fishermen use to keep their nets afloat; Dee Dee had been collecting these because they had a connection to her grandfather, and seeing these balls washed up on the beach in Washington State. I actually went on eBay and bought some, rather than using ones from her collection, because I was interested in the commerce aspect of that, as well. I then used those as I often do in my work, as props for a piece of text or some sign I imprint on the object.
As the patrons, tell us what you learned about the artistic process.
Dee Dee: I think the thing that struck me most was how thorough Adam was. Before he even photographed us, he wanted to meet us first at our home, and then outside our home without our children, and then meet our children. And he learned an inordinate amount in a relatively short period of time.
Rick: And his ability to capture what we are, in that time, was really amazing.
What was it like to be under that sort of scrutiny from an outsider?
Dee Dee: It was so easy; it was like talking to an old friend.
Rick: It was not a problem, at all.
Adam: Well, they're the only Democrats in Winnetka, so we immediately hit it off!
Can we still publish your picture, or is someone going to egg your house?
Dee Dee: Oh, go ahead--it's fine!
What was the most rewarding part of the project for each of you?
Rick: Meeting an artist, watching the process unfold before our eyes so quickly, and then seeing the result here tonight.
Dee Dee: And even before we saw this work of art--which is fabulous and which we love--I felt I was enriched already, just from our first meeting with Adam. It was terrific getting to know him, as someone who thinks in a very deep way.
Adam: For me, it has been a while since I've concentrated on making a very specific piece, so it was great to get back in the studio. And to meet all of the Chesleys, and think about making work that's filtered through the experience of other people's lives, is something I've never done before. I learned a lot about what I'm able to do on command--and demand--and in a manner that I don't feel compromises the way I work, but rather adds another layer of content, as well as a dynamic outside of myself, to the whole process.
Dee Dee: I will say I was paranoid about seeing our faces in a traditional photo. That was not appealing to me at all, and I hopefully conveyed that to Adam. Ultimately, the way he approached this project made it so easy: we didn't have to put on these cheeseball smiles for the camera; we just got to be ourselves. Being depicted in that way was so much more gratifying.
This is the first time you've seen the work. Did you know it was going to be the size of a small billiard table?
Dee Dee: He did give us a hint about that! Now we just have to find room for it.
Rick: Meaning: no foosball table for Christmas!