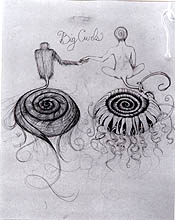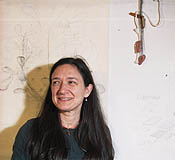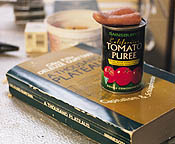 Top: Claire Pentecost, Big Curls, palladium print, 10x8 in., 2000-01. Courtesy the artist.


Claire Pentecost

Artist statement: My work explores the shifting boundary between the natural and the artificial.

Rep: I've shown at Jean Albano Gallery, Chicago, and most recently at the Corcoran Gallery, Washington, D.C., with a piece that is documented on their website. Also, I just published an article on food, knowledge, authority, and the role of the artist in Art Journal.

Neighborhood: I think realtors want to call it West Bucktown. One SAIC student called this neighborhood "the faculty ghetto."

Day or night person? Well, I was always a night person, until I started teaching and then I had to get up early. One of my favorite times is still at night, but I have adapted to adulthood. When things really get rolling, it's usually during that kind of nighttime that feels sort of endless.

Can't work without: Music. Good, organic, fair-trade coffee and yerba mate, which is an herb you should drink out of a gourd--but I can't deal with the gourd--and sip it through a straw with a strainer at the bottom. Also pencil, charcoal, chalk, rapidographs.

Background noise: For most of the stuff I do, I like to have music on. Anything from Sleater-Kinney, Sonic Youth, a Persian-Indian band called Ghazal, to opera, folk, classical, rap, and Baroque singing. I need variety.

Significant object and its history: Pick one: Rotted fruit and vegetable peels, rubber ears and noses, random packaging, fragments of toy arms, brain coral, genetically engineered tomato paste, a box of snake skins, player-piano music, books, newspapers, an old pan to make madeleines in, false eyelashes, bones, tongues that stick to the walls, Mammowipe for general washing and patient skin-cleansing.

Creative block coping strategy: I'll look at the stuff I've collected, or I'll read. But I also keep notes when I'm on a roll and I have a lot of ideas. Often what helps me is going back to something I wanted to do and didn't have time for. But the most important thing is just starting on the barest thread, entering the process--then it will take care of itself. It's just taking that risk.

What is the relationship between the space you work in and the work you make? I had a hard time finding a studio, so I finally decided to just rent a rundown apartment. I told them, "I'm drawing on the walls; don't fix it up." I turned one of the rooms into a darkroom, and wash my prints in the tub. I draw on the walls, stopping at different stages to make an 8x10 negative, and then make palladium prints. The work that I'm doing here is very specific to this space, because I'm exploring the experience of interiority and using a domestic interior as a metaphoric setting. I was educated to develop my interior life. That's a modernist subject. But in the postmodern era, I often ask myself, who cares about all this precious interiority? There's so much out there in the world to address, and it's hard to know how your interior life and the processes of your unconscious relate to things outside. So the studio is kind of a model for exploring that interior life, where I can allow myself to make decisions that are not rational, that are based on a hunch or an association. I still think that's a viable base for individual autonomy. I get very attached to the space, because it's really where this work happens. The studio works as a metaphor for the mind; things float in from the outside via ads or newspapers or the radio, mingle with something from memory, and combine in a drawing. And the audience never goes to the studio; they get a representation of what goes on in there, or in the mind; the work is a photograph of that process. I sometimes conceive of it as brokering the public and the private--notions that are currently in transition.

Notable studio mishap: I think my worst mishaps are my own projects. I'll be working like mad on something, and everything gets moved or harnessed. Then the project's over and the studio looks like a tornado went through it, because when I'm working, I don't put anything away. If it doesn't work over there, I start again over here...it's like this trail of all my trial and error.

How do you unwind at the end of a long day/night in the studio? Alcohol and TV. Or in my better phases, yoga.