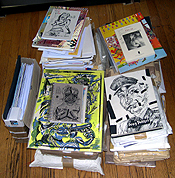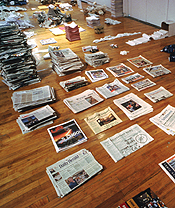 Paper Trails (Going Through Your Garbage), installation at Gallery 400, Chicago, 2002. Courtesy the artist.

marcfischer

Tell us a bit about the scope and scale of your collections. The most evolved collection I have is a series of files containing maybe 4,000 photos cut from books, magazines, and newspapers. I've been casually clipping photos for about the past 13 years. When enough photos accumulate around a particular theme, I start a new file. At this point there are about 100 different categories like "Enlargement," "Copies and Originals," "Transparency," "Suspended and Hanging Bodies," "Schematic Faces," and "Scars." These files contain aspects of the visual world in a way that cuts across normal divisions. Art can mix with documentation from medicine; news photos can mingle with children's book illustrations or porn. These files are like a laboratory where pictures can be rearranged to form new relationships and ideas. Manipulating simple objects or photos is a fast way of re-imagining the world on a small and safe scale before trying out more complicated ideas on a larger scale. I also have a lot of paper ephemera and printed material: religious tracts, street flyers, 'zines, books, decorative drawings made on envelopes mailed to me by people in prison, and artists' books and printed matter. Books, records, leaflets, and other objects designed to be cheaply produced and widely circulated to large and diverse audiences are particularly inspiring to me; they help me formulate ideas about how creative work can go out into the world. I'm part of a group, Temporary Services, that makes a lot of booklets, and I make a lot on my own. We often exchange our publications with others who self-publish, so I tend to develop small archives of friends' publications. I also enjoy exchanges with a French artist, Bruno Richard, who's sort of a cult figure in the world of underground publishing, and a highly energetic maker of wildly perverse and inventive drawings. I've never met him in person, but over the past five years or so, he has sent me thousands of pages of copied drawings, ephemera from his life, books, photos, and writings.
How long have you been collecting things? Always. When I was young I avidly collected baseball cards, even though I never cared very much about sports. I think I was more interested in being able to endlessly sort lots of small pictures, and I enjoyed the variations between different photos of the same players across time, or photos of the same person in different design frameworks in cards made by different companies. Now, I view my collections as just another aspect of my creative work as a whole--which also includes writing, doing work on my own and in collaboration with others, creating exhibitions, and self-publishing. I don't make distinctions about which parts of this are art and which aren't. I don't care--it's all continuous to me.
Is there some underlying theme to the objects that intrigue you, or particular aspects of life/the world you're trying to document? What makes collections of any type of object interesting or useful are the kinds of relationships and insights one can glean from seeing similar--or dissimilar--objects juxtaposed in thoughtful ways and provided with a meaningful context. When objects are presented with a coherent context and visual structure, it becomes possible to see and learn things that might not be discernable otherwise. One example of this would be a collection I have of found bookmarks. These are mostly things that weren't originally intended to be used as bookmarks, but that I've found stuffed in library books--scrap paper, shopping receipts, Post-it notes, index cards, ticket stubs, nail files, and other bits of crap. Lumped together in a box, they look like a pile of ordinary trash. When presented together with care in neater arrangements and thematic divisions, it becomes possible to survey a common human activity. You can appreciate these little improvisations and behavior patterns--perhaps someone first stopped at the library, then bought some potato chips at the Walgreens a block away, and on the way home began reading the book on the train and used the Walgreens receipt as a bookmark. So this collection is an informal record of an aspect of life that is probably common in any culture that has books. I also just revisited a wonderful collection in the Mütter Museum in Philadelphia; they have hundreds of neatly sorted objects that a doctor saved after he removed them from peoples' throats. You can imagine all of these little emergencies spanning many years--people getting metal toy jacks and nails and safety pins and buttons stuck in their windpipes. It's fun to see that there are dozens of safety pins--mostly open--as though everyone is, at some point, destined to swallow one of those things. It's like a massive archive of stupid things people put in their mouth or couldn't be bothered to chew more carefully.
Do you incorporate your collections into your work, and if so, for what purpose? I began directly incorporating my collections into my art about 10 years ago. Most recently, I participated in a project Dan S. Wang and Mike Wolf organize at Mess Hall called Selections, which invites people to curate an evening of recorded music. Drawing from my record collection, I surveyed more than 40 years of "Screaming in Music." My selections crossed genres and included Wilson Pickett, Napalm Death, Diamanda Galas, Brainbombs, and Deep Purple. The intent was in part to focus the audiences' ears on just one aspect of the music, the screamed vocals--which in some songs are just a small part of the music, and in others are the dominant part of almost the entire song. Sometimes I make temporary collections for an exhibition, which are dissolved after I'm finished with the work. For a recent project at Gallery 400, Paper Trails (Going Through Your Garbage), I collaborated with University of Illinois at Chicago's recycling program, which dumped about 1,000 pounds of the school's paper waste into the gallery. I attempted to sort it all into thematic and aesthetic categories, forming about a hundred different arrangements. These collections surveyed the varieties of paper waste generated by the population of a university, while also poking at issues of social responsibility and ethics--which are always tied to art but infrequently acknowledged in an open way. At the end of the show, the gallery staff swept everything back into a big pile and the recycling department re-sorted the exhibit according to their own categories.
One of the things you've been collecting is correspondence from your friend Angelo, who is an artist and is currently incarcerated. How did that start? I've known Angelo entirely through written correspondence since around 1991. His cellmate at the time had requested a copy of a fanzine I used to publish, and seeing my interest in art and prison issues, he encouraged Angelo to write me and send one of the historical narrative drawings he makes. I was extremely compelled by the ballpoint pen drawing he sent; it showed all the prison narratives of power and domination displaced to an historical scene of Roman soldiers torturing their Christian captives. Angelo makes tons of fascinating and really unsettling drawings. This mailing was the start of our ongoing dialogue. It soon became clear that I was about the only friend Angelo had on the outside. His drawings and writings kept getting stolen by guards and other prisoners, so he began sending them to me for safe-keeping. Mostly, I just store everything in the envelopes it's sent in. If Angelo gets out I could return them to him--nothing has been sold. In the meantime, I've collaborated with Angelo, and Temporary Services has presented his drawings and collaborated with him on a book and exhibit about the myriad things prisoners invent. I would like to find more ways for people to see the full scope of Angelo's work in the future, but it's hard to find interesting and sensitive placements for his art and writings. When good opportunities arise, I coordinate his participation.
What's it like to be the caretaker for all this stuff? In the case of Bruno Richard and particularly Angelo, it is strange to be a caretaker for so much material that hardly anyone ever gets to see. Their work calls up hard moral questions and can be exhausting to look at in large quantities. These two archives represent a daunting amount of thought and energy. They need to be seen by more people.
Which of your collections do you personally find most compelling, fascinating, or strange? I have a collection of about 30 prison love letters that are continually sent to me by Angelo's former cellmate Paul, whom I also correspond with. Paul is evidently tall, toned, and has long blond hair. He has many amorous admirers who shower him with unwanted attention and very graphic love notes. He doesn't want to keep them--not surprising, given how creepy they are--so he sends them to me. Most of them are very aggressive and quite disturbing; I'm not sure I've read any of them more than once. Due to widespread illiteracy in the prison system, some of the letters are in one person's handwriting but sent by different authors.
Do you ever envision a life without your archives? If I lost everything, I'm sure I'd eventually get over it and survive just fine. I've probably almost exhausted my enthusiasm for some of my collections. One thing that interests me about Angelo is that before prison, he had many collections--comic books, silent movies, etc. Now he's in a place where he can't accumulate too much stuff, or it'll be confiscated. So instead, he makes lists of things, like his favorite movies and books he has read in prison, and archives his own art production by making written records of what he has done. His written lists seem like a stand-in for physical collections. Personally, I don't see much value in hoarding things only for your own gratification without making an effort to share them with others, or to share the insights you might be able to gain from spending so much time with your own archives. People who collect things should also hook up with people who have similar interests and help them out. The difficult thing about having collections is to find ways of sharing this material that are thoughtful, instructive, interesting, and creative.

Marc Fischer is an artist and a member of the group Temporary Services. He is also part of Mess Hall, an experimental cultural space in Rogers Park.