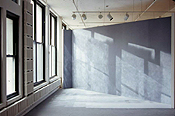 Paola Cabal, Here Tomorrow, interior latex, spray paint on floor, wall, School of the Art Institute MFA Exhibition, 2003. Courtesy the artist.

paolacabal

Age: 27
Point of origin: Bogotá, Colombia
MFA: School of the Art Institute of Chicago

How did you end up here? My family moved to South Florida when I was 3, but I went back to Colombia to live after undergrad in Pittsburgh (in Visual Art at Carnegie Mellon). After two years of the intense social/political/economic sink-or-swim of Bogotá, I had a couple of good pieces, more raw material for new work than I knew what to do with, and a keen sense that it was time for me to leave. I applied to SAIC and got in, so I came to Chicago. Ultimately, I believe you end up where you're meant to go.

Tell us about your work. I try to "fix" or hold things in place so that they can't escape, recognizing on the other hand that the demise of these things is built in. The optimistically titled Here Tomorrow (in which I traced the sunlight patterns coming into the space directly onto the floor and wall with spray paint) won't be--it's already painted over. But it still exists in a sense: the sun is still there and the wall is still there. In other pieces, the process of creating the image weakens and/or damages the surface. Carving and incising can make something stay in a way that can't be erased, but the paper doesn't necessarily appreciate it. In that work I think there's a tension between the fragility of the surface and the aggressive, visceral nature of the technique applied to that surface, which points to my ambivalence about change. Maybe it's sort of a mistake to try to make permanence; maybe you give up something important when you try to hold things down.

How has being at SAIC changed the direction of your work? It has definitely encouraged me to let my work do more of the talking (or suggesting or whispering) rather than try to take it to such a literal place that it can only resonate in a really limited way.

What's the best thing that happened as a result of attending SAIC? The genuinely insightful and always surprising faculty and fellow grads I have had the privilege to work with and beside. These are good people. I know myself to be crappy about staying in touch with anyone farther than arm's-reach away, but as far as this limitation will allow, I plan to retain these relationships for life!

What advice would you give a BFA student considering graduate school? After four years, you know who you are as a student. Take a little time to find out who you are as a person and an artist; make that clear for yourself. Then go to grad school and test that against what they tell you, and refine it. But bring something to it, you know? Don't just ask grad school to supply you with everything, because you'll be disappointed.

Would you do it all over again? Definitely. SAIC was exactly the right place for me to have gone; the timing was right and the feedback I got on my work was tremendously useful. Several thousand dollars of debt later, I can't say enough how not sorry I am I did this now.

Do you feel living in Chicago has had an effect on your work? Absolutely. Chicago is visually and culturally and in all other ways delicious to me. There's this gorgeous, forceful austerity to Chicago that I have a hard time putting into words; it's in so many ways the opposite of what I grew up around that it's really helped me to see those places, and therefore my practice, in a completely new way. It's like a present I never finish unwrapping because there are always more layers.

How have your expectations about being an artist changed? They haven't. I mean, every artmaking peer or faculty member or administrator or gallerist or curator or what have you, is a different example of a way to be one. I never subscribed to the notion of being an "artist" as this isolated activity divorced from everything else, so I can't really say that my expectations have changed on that point.

Now that school's over, what do you look forward to most? For the immediate future, processing all of the information I received while I was there!

What will you miss the most? What I can sort of see missing the most--and am sort of the happiest to be without for right now--is the constant attention of discerning minds and eyes on my work. But I am optimistic that it will be there to reach for when I find I need it again, as long as I force myself to be better than I am now about keeping in touch!

Where to now? For the moment, the plan is to stay here a year, until next summer. I can see Chicago being a home base for me, but for right now I know that what I need for myself and my work is to leave the States again for a while. Next stop: Brazil.

What's the worst or strangest comment you ever received in critique? I made a piece called Support System--where I traced the shadows of scaffolding cast at night by streetlight--and a visiting painter said she felt as though it should include a taxidermied squirrel somewhere on the floor.