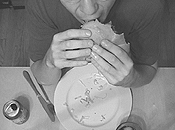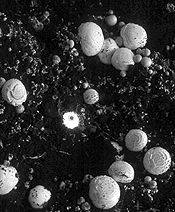 Top: Lucky Pierre, http://www.tdcj.state.tx.us/stat/finalmeals.htm, 2002-03. Courtesy Lucky Pierre.

Center: Great minds draw alike: the openmic experiment, February 7, 2003.

Bottom: Mindy Rose Schwartz, Pinning Stage (detail), soil, mushrooms, plastic eyeballs, lights, 1997. Courtesy the artist.


spring 2003 contents

features

luckypierre
interviewed by jeff abell
listen like thieves: SwearLine

darrelmorris
interviewed by julie farstad

departments

mouthpiece
the editors speak

openmic
friday night encounters
the mind's i space

talkingheads
the faces behind the spaces
michelle fire/big chicks
interviewed by kristen brooke schleifer

wordforword
artists trade tape
phyllis bramson/deva maitland/mindy rose schwartz

lipservice
our short list for winter 2003

voicemail
dispatches from chicago ex-pats
kim collmer
our heroes
sponsored links
Art Chicago 2003
Art Pilsen
FLATFILEgalleries
I space
Northern Illinois University Art Gallery in Chicago
Aron Packer Gallery
School of the Art Institute of Chicago
White Wings Press
Zolla/Lieberman Gallery, Inc.